If you are thinking of growing tomatoes at home you need to consider what is required to get the best out of your tomato plants. One thing is for sure, if you choose the right varieties and apply some simple rules you will find that home grown tomato plants can produce lots of lovely fruit with much more flavour than shop bought tomatoes.
There are generally 3 primary aspects to tomato growing that you have to get right in order to ensure that you will have healthy plants that will produce lots of tasty fruit to feed your family and act as a very healthy option to supplement your diet.
Location
Feeding & Tomato Care
Support
Location
Location is very important because you need to ensure that your plants are going to receive at least 6 hours of sunshine a day minimum. Even better if you can find a spot that will provide up to 10 hours of sunshine. Without this you will have less fruit and will find it difficult to ripen what fruit you do get.
Feeding & Tomato Care
Feeding and care starts with the soil preparation, make sure before you plant that you have dug the soil over and added a mix of high nitrogen compost which you can either purchase or make by rotting down your grass cuttings and vegetable peelings from the kitchen, it has to be well rotted otherwise it will end up taking nitrogen from the soil instead of giving it out.
You can add a mulch of spent coffee grounds to the surface of the soil after planting, no more than an inch in depth as this will help with feeding the plant with nitrogen. When the fruit starts to appear you should feed the tomatoes with an appropriate tomato feed as required. Remembering that you can actually overfeed tomatoes, so if everything in the tomato bed is rosy then just monitor proceedings and add a little feed only if you think it is necessary.
One of the most important aspects of care is watering, this should be done regularly and frequently to ensure that the plants never dry out but also that they are not saturated. The latter will prevent an adequate root to air interface in the soil. You can either use an automated watering system or water 2 or 3 times a day using the old fashioned manual methods.
Finally keep an eye out for invasive pests and treat as required with a pesticide or if you prefer organic tomato growing review the links at the top of the page for more advice.
Support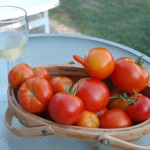 For vine or cordon type tomatoes (indeterminate varieties) you should provide a frame for them to grow on, this can be as simple as a stake in the ground or you can purchase tomato cages if you prefer. As the plant grows you should pinch off the lower shoots to prevent contact with the ground where they could pick up disease. You can also limit the number of trusses concentrating on keeping the stronger ones with most fruit, 4 to 6 trusses is normally considered adequate per plant and when you have established the number of trusses required the plant can be topped out to prevent further trusses starting to grow. This ensures that all the nutrients to go to the established trusses and are not wasted on blossoms or fruit that will not have time to complete the full fruit production cycle and ripen properly. An exception to this rule is if you like to produce some green tomatoes for cooking or chutney, in that case leave an extra truss or two and remove the fruit before it is fully ripened.
If you use stakes make sure you tie off each truss as it grows using a soft garden string to prevent damage to the plant, generally if the trusses are hanging down, especially as fruit develops, they should be tied up and given support, the only exception to this is if you are hanging plants upside down from a plant hanger.
The above provides a summary of the primary elements for producing healthy home grown tomatoes with lots of flavour but for more detailed information and further advice visit the blog posts or browse through the listed categories for subjects of choice.
21 Comments »
RSS feed for comments on this post.
---