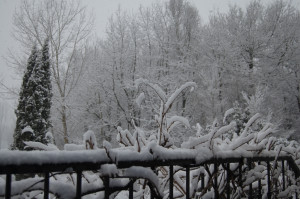 There really isn't a lot to do in the garden in January for a tomato garden. You can select some tomato seed and if you have a heated greenhouse you can start to sow your tomatoes during January. But for most people it will be better to wait until early March when the weather warms. Ideally, if you haven't got a heated greenhouse, you should be looking to have your plants available and ready for planting out around early April once the risk of frost has subsided. You would normally expect the tomato plants to be ready from seed after about 4 – 6 weeks, this is type dependent but usually you can get a better idea from the packet.
Meanwhile you could just spend some time researching and reading up on the different tomato plant varieties and selecting the ones best suited to your needs, irrespective of whether you have decided to grow from seed or purchase the plants ready to go.
There are always some general maintenance jobs you can do in preparation for the growing season. Greenhouses in particular generally need a bit of sorting out.