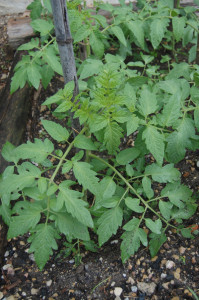 In order to grow good tomatoes that are free from disease, have a good plump juicy body and are plentiful on the vine there are 3 key aspects you need to take care of to get the best from your plants. It involves a little forethought and planning on your part but the results will make it well worth the effort. So exactly what do tomatoes need to grow?
First, as they say about real estate, its location, location, location, tomato plants are true sun worshipers and need to be in the sun for at least 6 hours a day in order to provide plenty of fruit on the vine.
Second, they need to get the correct nutrients to flourish and the place they get them from is the soil helped along by the correct watering program. If you are planting the tomatoes in the garden it is essential that the ground is properly prepared for planting with plenty of compost and or fertiliser dug into the soil to aid growth. Once planted they should be revisited fairly frequently with some sort of feed and I would recommend this is done at least once a week, especially if you notice that your plants are flagging a bit. You can either purchase specialist tomato feed (don't forget to refer to their instructions) or you can use your left over ground coffee and place this around the base of the plants. Do this and before you know it you will have lots of lovely fresh tasting tomatoes.