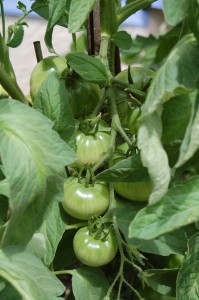 Around the end of the growing season for your region with the colder nights coming in and perhaps a possibility of frost on the horizon, you need to start thinking about how to ripen tomatoes that are still green before you loose them completely.
One of the ways of ensuring that your tomatoes ripen is to continuously harvest your tomatoes as they become ready for picking, this releases energy to the tomatoes that are not quite ready and will encourage them to ripen.
Another general suggestion is that if you note that your night time temperatures are dropping below 70F then there is little to no chance of any new blossoms becoming fruit, so pinch these out and direct the energy they would otherwise have taken to your fruit that still needs to ripen.